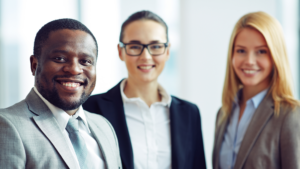 In the current climate, talent acquisition is challenging. When you add in uncertain economic news and rising costs, ensuring you have the right candidates coming forward for openings is critical. The recruitment process can be time-consuming and costly and when you add into that ensuring your practices can evidence diverse recruiting, the difficulties for talent acquisition specialists and HR are evident. Having a diverse and inclusive team, however, is critical in every business but particularly in digital transformation. Tech businesses need to lead the way in ED&I recruiting because innovation and creativity are facilitated by diverse leadership.
Data-driven recruiting
Put simply there is only one way to show fair recruiting and practice that is free from bias for or against individuals or groups of candidates: data. When we say data, this refers to meaningful information that evidences not just who your candidates are but can demonstrate a recruitment strategy that has considered diversity hiring. Without data, there simply is no way to measure progress or success.

"Look for equity gaps in the recruitment funnel, which can give you opportunities to improve with both people and processes".

Forbes: Failing With Diversity Recruiting? Start With a Data-driven Framework
It's about the collation of rich hiring data that forms and shapes the way your business moves forward. For example, understanding which method has the most success within your tech hiring. Is it referral or do your best candidates come through external recruiting partnerships? Transparency on every level is the only way to move organisations forward. Initially, a business needs a dataset that holds key information that can drive improvement in ED&I recruiting. Whilst time to hire is always a challenge for businesses, there is a wealth of evidence that shows diversity is a key driver of innovation, creativity, and success in business. Skipping the steps or hoping that you have ticked a few boxes is simply not enough to evidence diverse hiring nor does it serve the business. Diversity must be the thread that runs through all recruitment from the job spec to the interview panel and the approach to the search process.
What is important is that tech businesses make a start on their D&I journey. Raghu Gollamudi, CEO and Co-founder of Included suggests starting small, "be scrappy and agile and see how the metrics are trending". What is important he posits is that the first steps are taken, and the rest develops from there.
Our evidenced process
At Watson Reynolds, we know that diversity and inclusivity are key drivers of transformation in the tech sector. Therefore, we have created a robust search process backed up by in-depth analytics and diversity data pre, during and post-search. We know that data is the only way to facilitate informed hiring decisions. Our process has been developed not just to move D & I recruiting forward and provide opportunities for our candidates, but it is the best way to support our clients in HR departments and Talent Acquisition in tech leadership.